News
Welcome to the LPfaction page - here you can find out what's going happening on LPfiction and in the real world of Linkin Park.

Please view the the LPfaction archive
"Nothing succeeds like excess." - Oscar Wilde
Being one sixth of one of the most talked about rock bands of the twenty first century isn't enough for Mike Shinoda, proved by the opening of part one of his art show Glorious Excess. Part one, Born, will be on display at the Japanese American National Museum in LA from July12th until August 3rd and all proceeds go toward the Michael K. Shinoda Endowed Scholarship at Art Center College of Design in Pasadena, California
Born is the story of a nameless celebrity famous for doing nothing in particular and his decadent lifestyle. It is a nod toward the growing obsession with the celebrity and the ease with which people become famous.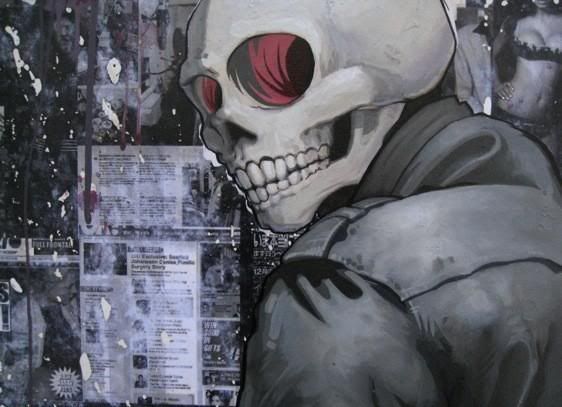 The exhibit is partly based on Shinoda's own experiences as a celebrity and a member of a band that have spent a lot of time in the spot light over the last decade, positively and negatively. In 2007 lead singer Chester Bennington's life was turned upside down by a fan who stalked him, interfering with his emails and phone calls as well as contacting his friends and family. She is now doing time in jail, but it would hardly be surprising if this was at least some inspiration to Shinoda.
In an interview with ultimate-guitar.com Shinoda described the main character as "super rich, kind of dangerous and does not give a crap and he's got this sex, drugs and rock n roll and he's not really talented at anything except being a celebrity. He's great at being famous."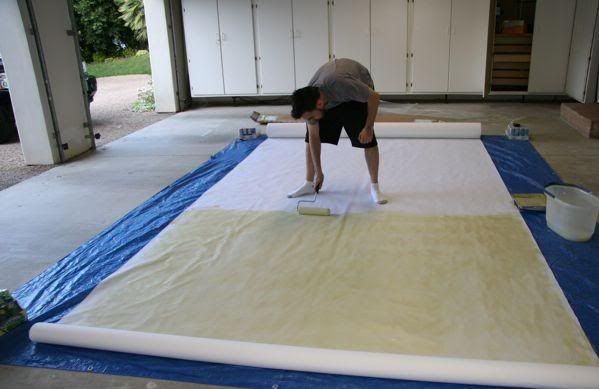 It would be easy to call the exhibit condescending - for Shinoda to base an exhibit on the rock star lifestyle of somebody who was boosted to fame by love from the public would be ironic at best – but it's hard not to admire Shinoda for his work.
Shinoda has kept fans updated on all things to do with Glorious Excess on his blog
www.mikeshinoda.com
, where he also posts updates about his up-and-coming DC Remix shoe release. The release of the shoes coincide with the art show and are based on pieces featured. They are available to purchase on August 1st.
Check out the Art section of the website for a sneak peak at the making of
Glorious Excess
and the Video section to watch an exclusive video,
Sirens and Silence
, which was shot by Shinoda himself and goes hand in hand with the story behind his art work.
Shinoda will return to the National Museum on January 24th with the second part of the exhibit,
Dies
.
by
Roz
An interview with...
Our continuing feature An interview with... has been updated to include an interview with L~T.
Please see the message boards to take part in the next interview with Shinobi.
Music For Relief
Support the cause by purchasing and wearing Music for Relief merchandise. Proceeds go towards our initiatives to help rebuild the Gulf Coast and reduce global warming.
click here for more information and pictures of Mike Shinoda's ass
New Members
I'd like to wish you all a warm welcome and hope you have a lot of fun both reading and writing.
Please read the LPfiction rules !


All new members must have their stories read by the LPfiction Beta Team before they can be posted here.
Please email your story to the

We want all new members to be aware of the LPfiction rules and request that all writers have their stories checked by a beta before posting (for more information please visit the rules page or the message boards).
If you find a story that is in violation of one or more rules, please inform us on the message board or send an e-mail

Please visit our Recommended Reading section - Which stories were voted the best on the site?


Please donate!
We need donations in order to keep this site running. If you would like to donate through a method other then the internet, please contact Gummibear Queen.

Thank you MissB for the banner design!
Message Board News
Message Board Registration

Recently, there have been a lot of bots making accounts and posting annoying links on the message boards, we are trying to stop this. Unfortunatly, it has meant that everyone that registers must now have their account activated by an administrator and due to the vast number of bots trying to register we have been missing genuine accounts that should be activated.

We apologise for the inconvenience, and ask anyone wishing to register for the boards to also send me an email and I'll activate the account as soon as I can.

Links

If you would like a link here please contact Gummibear Queen