News
Welcome to the LPfaction page - here you can find out what's happening in the real world of Linkin Park.


PostTraumaticTour2019
26 days, 18 shows, 11 countries. Let's better not calculate how many kilometres Mike and his crew travelled within the single month of March 2019 to make it from venue to venue; and how many kilometres many fans travelled to see him.
The last leg of the PostTraumaticTour started in Berlin on March 2nd, what was the first of seven shows in Germany. Fans queued from the early morning hours and despite the cold, more and more people showed up before noon. That shouldn't change for any of the following concerts and the fans learned the value of safety-blankets and hot tea that was more than necessary to make it through the nights and days. Still, the atmosphere was great and there were a lot of hugs and cuddles when people finally met again or for the first time.
The Shows,
To summarize the shows under one heading is impossible but it can be said for sure that Linkin Park, Fort Minor and Mike's latest release, PostTraumatic found their way to the setlist, making everyone happy, no matter what reason for showing up they had. As last year, Mike gave the fans the opportunity to celebrate Chester when playing "In the End" but there were more moments that made the crowd remember him. "Castle of Glass" and "Roads Untraveled" were played every night and the fans were either screaming their lungs out or giving the song the tenderness an acoustic version needs to pay tribute to Chester and the songs.
From PostTraumatic "Make it up as I go", "Crossing a line" and "Running from my Shadow" Occasionally other songs found their way on stage, for example "Numb", "Burn it down" and "Heavy", all well received by the crowd. Also, the lucky fans of Italy got to hear "Iridescent". New on the setlist was the in the end of 2018 released "Prove You Wrong", a song that got played in Bremen for the first time and stayed on the setlist for the rest of the tour.
Mike also brought local artists on stage with him, in Berlin he was joined by Jennifer Weis, who just killed Chester's part of "A Place For My Head". In Hamburg, Yvonne Catterfeld sang "Burn it down". The singer of Coco Bans filled in K.Flay's part during "Make It Up As I Go" in Paris, as did Lina Maly in Munich.
But not only known singers, also fans joined Mike on stage again. Philip, who's friend asked Mike during the M&G in Berlin if he could need some support during "In the End", got the chance to play the piano. In Hamburg, Mike (let's call him Fan-Mike to avoid confusion) got to play Matt's guitar-parts on "Roads Untraveled" and he totally nailed it. Even more impressive when you know that Fan-Mike had Real-Mike's guitar on his in-ears because everyone thought he would play that part instead of Matt's.
Speaking of Matt, that guy is incredible. No matter if playing the guitar, the keyboard or some drums, he gave everything. Let's not even get started on his wonderful backup vocals.
On the other end of the stage, Dan was banging the shit out of his drums and the fans gave him some extra love during and after his drum-solo that would follow after "Sorry For Now" every night. Respect dudes, keeping up with Mike during this tour must have been a challenge but we couldn't have wished for anyone better to join him up there and sharing this journey with all of us.
Every show was something special and Mike was good in picking up on the mood in the crowd but also sharing his own. Like he did last year, he would share a few thoughts on different topics before asking the crowd to sing Chester's parts of "In the End". This could be rather sad topics, like the passing of Keith from the Prodigy, or rather funny topics like little stories about Chester. It made every night something special and proved, once again, that he isn't just coming out to play a few songs and then leave again. No, he is there to say thank you, to connect with the fans and to make new memories for all of us.
A Special Night
The show sticking out most was London. On the one hand, it is Matt's home city and you could tell that he put some extra effort into it and second, Mike surprised not only the Roundhouse crowd but the whole fandom. Mid-set, he started talking about other artists the band had been working with and mentioned Egg White. And even when Egg came on stage, nobody expected what was going to happen. I need to admit that I was even in denial when Mike said that they wrote the title song of "One More Light" together. Only when he started playing the piano and the first sounds of the just mentioned song swirled through the venue, people started to realize what he was about to do. What happened next was that everyone holds their breath or was saying "no, no, no". In retro-perspective, that wasn't the best reaction and when Mike said, "you help me out?" the atmosphere shifted towards a "hell yes, of course! If you want to do this we are here with you". A lot of people were crying their eyes out and there were so many people holding each other and still singing along. What a unique moment and I think the emotions that came out during those five minutes were so healing for many. Later during the evening, John Green joined Mike to play "Battle Symphony" and "Nobody Can Save Me", the latter stayed on the setlist for all the next shows.
It is hard to find the right words for things that seem really unreal but that for sure happened. The best proof were countless messages from people that followed the show on social media and checked in on people from the crowd if we were doing ok. It wasn't easy to find an answer to this question but it was for sure a special night. -Samweis
Recap Mike Shinoda Tour 2018
Album and first Live-shows
2018 had some big things in store for the Fan Community. After the release of three songs that Mike had written in the months after Chester's passing, in March he surprised the fans with the announcement of an album. But even before PostTraumatic was available in the stores on July 15th, he was back on stage. Two shows on the same day in May in L.A. showed, where he really belongs: in front of people that are willing to listen to not only his music but also his words. In the afternoon of May 12th at the Weenie-Roast and as headliner at Identity-LA at Grand Park he performed his new songs alongside LP- and Fort-Minor songs, handling most of the set alone. He was joined by Joe Hahn for Castle of Glass at the second show of the day, but beside that he sang and talked his way through the shows by himself.
When the album was dropped, it made its way to the top of the Billboard charts and a release party was hosted at the Amoeba Record Store the night before. Mike was joined by K-Flay on stage, one of the collaborators Mike invited along, to his journey of creating his new album. Other musicians featured on the album were Chino Moreno, MachineGunKelly, grandson, and blackbear.
What followed was a marathon of promotion, smaller shows and interviews. Along the way he dropped more and more dates for Solo-shows and festivals. Before heading to Hong Kong, he played the LoveLoud festival. What a nice surprise when Phoenix entered the stage, playing Running from my Shadow with him.
The seven concerts in the US lead to the realization that is was hard to handle a full show all by himself. Even multi-instrumentalist(that are also singers and rappers at the same time) are stretched to their limits. Therefore, Mike introduced Matt Harris and Dan Mayo, both talented musicians that were welcomed by the fan-community with open hearts and that would stand on stage with him in the next months.
Festivals & Concerts in Asia and Europe
After hitting the road in Asia in August, Mike and his crew came to Europe for festivals in England, France and Italy, as well as for solo shows in Germany, Russia, Austria and Sweden. Within a couple of days, he played 10 shows, most of them sold out. At Reading and Leeds Festival he also joined SUM41 for their cover of Faint. The atmosphere at the festivals was unique and hearing thousands of people sing along to In the End led to goosebumps from the front row to the last corner of the area. However, the solo shows proofed to be something really special as well. Fans waited hours and hours in front of the venues and the energy every night can only be described as incredible.
The most impressive thing was probably the variance of setlists and the spontaneous decisions to the set every single night. A shout-out needs to go to Matt and Dan, who had to learn a bunch of new stuff over and over again, sometimes on really short notice, because Mike challenged himself to make every show unique. The variation was insane and he managed to get the best out of every show in Asia and Europe - no matter if it was in front of 30.000 people that where barely familiar with his PostTraumatic or Fort minor music or at intimate, small venues where he had barely enough space to move around on stage (which didn't stop him to do it anyway).
Outbreak Presents: Mike Shinoda tour the US
After leaving Europe, Mike found himself on the road in the US, touring along the East- and Westcoast. Here, the fans got the opportunity to get the full Mike-Shinoda-experience which included watching Mike in the process of drawing whatever was requested on a wall of papers that the fans colored in afterwards. Each person got to take one piece of the drawing home. Along his way of shows, M&G's and the art experience, Mike gave countless interviews, was invited to radio-shows and discussions. He spoke open and freely about his own experiences and the long way he came in the last year. His appreciation for the fans and the support was always a topic and he did not get tiered of repeating that.
Highlights
What every fan considered as highlight during the shows is really personal. What can be said for sure is the really special atmosphere when Mike gave a little speech before playing In The End. Words of remembrance, little funny stories, encouragement to #MakeChesterProud, personal notes on his own journey of grief, the reinsurance that it is ok to not be ok, how thankful he is for the opportunity to still make music and play shows. The repertoire of topic seemed infinite and left many people with tears in their eyes while they sang their hearts out, taking over Chester's part in this emotional song. As already said; no matter how many people were at a show, how the atmosphere was or what Mike chose to speak about; this moment was really special on every single day/night. Two of the speeches are transcribed here, because they summarize quite well, what the concerts have been about:
"Getting up here and doing this, for me, is really fulfilling and it's really an accomplishment, just to kind of get over my own anxiety about doing it again. And I'm really indebted to you guys, for helping me get here. I don't think I would be able to come out and do these, if not for you, so thank you so much. Thank you. One thing that I've been hearing quite a bit, is how some of you guys are going through some things and how the connection to the music helps you get through it. With that said, I know that there are some people out there who, I know myself, I want to come to a show, I want to come to a festival and want to have a great time and then there are other people. They are hurting, you know, and they've got some stuff going on. And I want you guys to know, if that's you, then don't be ashamed of that. You have no reason to be ashamed of that ever. If it's as simple as, you just really liked or loved Chester's singing or you love the band's music or you're just dealing with your own stuff that has nothing to do with us, hopefully, by coming to these shows and enjoying the music, and by engaging in this type of thing, it makes some of that bad feeling just go away." (Reading Festival, 25th August 2018)
"We have this special opportunity, right now, to make memories and have something that you will never forget. And if I can do that, at all, I've succeeded. But, it doesn't stop there. Because it's not just about remembering something, it's about it being meaningful in a larger scale. I don't want you to just walk away like, wow, that was cool that he sang that song. I want you to walk away thinking, what can I do, in my life, to make Chester proud. What can I do, in my life, to make somebody else who is feeling like they are worthless, like they don't have anything to look forward to or that they don't mean anything to other people, what can I do to make them feel worthwhile or important or loved." (Cologne, 29th August 2018)
On a personal note
I got the opportunity to meet Mike at the Meet & Greet, which gave me the chance to say thank you to him in person. He was kind, smiling, and grateful, taking his time to sign CD's, T-Shirts or whatever someone had brought. He also doodled small things. In my case, I asked him for one of his skulls and that doodle became a tattoo that will stay with me as a reminder of my summer 2018, where I travel Europe to see Mike Shinoda. If I would have known how much the following two shows after Reading would influence my life, I would go right back to that moment and give him another, even longer, hug to not only say thank you for sticking around and making everything more bearable but also for bringing me together with so many great people at the following concerts in Cologne and Stockholm. Grateful is not a strong enough word. But, in lack of any other term, I think it's the one I want to use here. -Samweis
Post Traumatic EP
On January 24, 2018, Mike Shinoda took to his social media accounts to announce the surprise release of three new songs, complete with visuals, the following day. His three track EP, titled Post Traumatic, dropped the next morning on January 25, 2018. The entire EP was created to help Mike deal with his grief following the surprising loss of bandmate Chester Bennington on July 20, 2017 to suicide. He was very careful to mention of the release that "this is not Linkin Park, nor is it Fort Minor - it's just me." As such, the lyrics are raw, painful at times, showcasing Mike's journey in the grieving process. They allow a view into the wide range of emotions that suicide loss survivors feel: sadness, anger, frustration, confusion, loss, and helplessness. Each track was released with an accompanying self-made video to give each song a visceral punch that otherwise might not be felt without the visuals.
Place to Start
The shortest of all three tracks, the opening song is full of the questions Mike has faced repeatedly in the past six months. Mike's feelings of hopelessness in the days following Chester's passing, all the draining uncertainties and insecurities, the questions and despair of the past several months are on display in this track, easily summarized by the line, "I'm tired of being scared what I built might break apart." The idea that the evolution of Linkin Park has been cut short, as well as the idea that Chester alone had defined what Linkin Park had always been, are too heavy to comprehend as he worries that he's lost the ability to determine his own future and how to move on. Musically, melodically minimalist synth production further drives home the feeling of confusion and loss of direction. Visually, the video is hazy and we only see half of Mike's face, with sunlight coming in the window over Mike's shoulder. When the music suddenly cuts away to still shots of Mike's kid's belongings and voicemails left for Shinoda in the days immediately following Bennington's death, it's hard not to feel disoriented.
Over Again
On the surface, this track deals with Mike's emotions surrounding the tribute show, Linkin Park and Friends, performed at the Hollywood Bowl on October 27, 2017. However, looking past the obvious references to that particular night, this song is about how unexpected things can trigger memories that must be embraced in order to move forward. It's the most personal narrative of the three songs on the EP.
The first verse, written and recorded on the day of the tribute show, finds Mike wondering if he can be professional enough to follow through with the commitment he made to perform without emotionally falling apart. The video painfully begins inside Mike's home studio vocal booth, a location Chester has been videoed in many times, and not coincidentally, Mike is wearing the same clothes he wore at the tribute show. His voice is hoarse and emotional as he seems overwhelmed with the burden he's taken on of being both himself and Chester for the performance, and explores his own fears and anxieties of being able to perform without Chester for the first time in almost twenty years.
Written and recorded the day after the tribute show, the second verse is bitter and aggressive, lashing out at people for their insensitivity and those accusing him of insincerity. Critics dared to comment that because Mike was a consummate professional during the show, he wasn't mourning. As he raps all the questions he heard in the hours after the show, there is pain, frustration, and desperation evident in his broken voice. Performing the tribute show should have brought a degree of closure to the tragedy, but instead Mike finds just how entwined his life has become with Chester's and wonders if he will ever reach a point where he is not being assaulted by the memories, where he won't be saying goodbye to his friend and bandmate every single day.
Watching as I Fall
The heaviest track musically of the three, this song is a lyrical middle finger to everyone who doubts that Mike Shinoda can continue to make music without Chester. It's easily the most "public consumption" ready of the three tracks, touching on the judgement of the media, the awful reality of mourning in the public eye, and how hurtful it is to not be allowed to mourn a close friend without a constant barrage of questions. As Mike is trying to sort out and come to terms with his feelings about the nature of Chester's death, and the future of his own career, he's being asked at every turn how he's doing and how he feels about both. He's trapped by his celebrity status as people wait for his actions and reactions. All he's trying to do is the messy work of sorting through his own feelings and desire for closure, but everything he does is dissected and reacted to, whether the interpretation of what he is doing is accurate or not. It's easy to see in the accompanying video that he's looking for ways to cope with his grief and anger.
Aftermath
This EP takes Mike's lyrical brilliance to the next level. It is an extremely real, close up, intimate look into his grief and his headspace in the past six months, and it is beautiful and tragic, vulnerable and honest. If this is the place that Mike Shinoda is going to start rebuilding, it's incredibly exciting to see what is next for him, as well as Linkin Park.
The outpouring of fan love and support has been tremendous following the release, and has even sparked a fan movement to bring Mike Shinoda to play solo shows in their cities. If you'd like to vote for Mike to play his Post Traumatic songs live near you, go to WeDemand! and vote, and share information on how to bring Mike to your city via your own social media. Watch the Post Traumatic videos at mikeshinoda.com
Member Guest
In late 2017, Dave Farrell joined friends Mark Fiore and professional golfer Brendan Steele to start a podcast called Member Guest. The lighthearted show features topics ranging from music to golf to everyday life. Each session features a new guest as the members - aka hosts - lead the way on subjects that range from side-splitting laughter to life lesson moments and exploring the passions of professions, history, family, and friends.
The first show was recorded on January 11, 2018. Their opening guest was front man M. Shadows from the band Avenged Sevenfold. All three hosts took turns asking questions and sharing their own stories as they played off of M. Shadows' answers and charismatic attitude. While most of the interview consisted of crazy and hilarious golf stories, the subjects of music, creative pathways, fans, social media, life on tour, and album releases were peppered in to create a balanced atmosphere for those listening who aren't head over heels for golf.
Toward the end of the show, the subject of late singer Chester Bennington came up, and the Hollywood Bowl show, which members of Avenged Sevenfold were a part of. It was a touching few moments as M. Shadows and Dave both reminisced about Chester and the light and talent he brought to the stage and to those around him. Both men shared their thoughts and experiences when it comes to grief and dealing with the passing of a loved one, friend, and bandmate.
So far Member Guest has had a handful of shows featuring Green Day drummer Tre Cool, professional golfers John Mallinger and Charley Hoffman, and Toronto Maple Leafs' player Joffrey Lupul. Check out the backlist of shows on their website and stay tuned for more exciting interviews about music, golf, and less important things, led by our very own Dave "Phoenix" Farrell.
Go to Member-Guest.com to listen for free. You can also head over to iTunes to listen and leave a review of the show.
One More Light & Chester's Passing
On May 19th, 2017 Linkin Park released their seventh studio album One More Light. The first single Heavy was released on February 16th, 2017 with an accompanying video featuring guest vocalist Kiiara. While this first single initially got mixed reviews from fans, most praised the band for releasing something so personal and dynamic, especially with the video representing just how deep the lyrics ran.
Battle Symphony, Good Goodbye and Invisible all followed as pre-released tracks. Each one showed a unique side to the upcoming album. Invisible let Mike Shinoda take the spotlight with his heartfelt singing abilities, Battle Symphony showcased Chester Bennington's well-tuned voice, and Good Goodbye brought in the old-school rap we all love.
The ten track album was shaping up to be like no other in the Linkin Park catalog, however, the mixed reviews kept coming with each pre-release offering from the band. Statements such as "selling out" and "doing it just for the money" were thrown around on social media, a situation that found the band defending their creative choices this time around. But through it all, they stood behind their music, and the very personal nature of each track. Fans, too, who had previously stood arm-in-arm for the band, were now being divided by the album's softer touch and lack of angst-driven screaming from Chester Bennington.
After the album's release, the LP fanbase seem to be at opposing sides - some loved it, and others hated it. The band, however, pressed on. As interviews were released, they opened up about their process on this album, even sharing videos from the studio. They talked about the meaning behind the tracks and revealed that depression, death, and family problems were all present in the last year or two for them all, which ultimately turned into the themes for the songs on One More Light. A tour was scheduled, and despite the split in opinion about the new album, tickets were selling.
No one knew this would be the last album featuring Chester Bennington.
On July 20th, 2017 Chester was found dead in his home in Palos Verdes Estates, California, from suicide by hanging. Once again the Linkin Park fanbase came together arm-in-arm to mourn the loss of this beautiful human being, whom we all miss so much. Our hearts go with the surviving members of the band - Mike, Rob, Dave, Brad, and Joe - as they move forward in the best way they see fit for Linkin Park. Many tributes for Chester have been held around the world by the fans, and Linkin Park will join in that sentiment. On October 27th, 2017 at the Hollywood Bowl they will be preforming a tribute concert in his memory. Friends, family, and guest vocalists will be in attendance. All proceeds will be donated to Music For Relief's One More Light Fund.
You can donate to the One More Light fund in honor of Chester here One More Light


Older News
"Nothing succeeds like excess." - Oscar Wilde
Being one sixth of one of the most talked about rock bands of the twenty first century isn't enough for Mike Shinoda, proved by the opening of part one of his art show Glorious Excess. Part one, Born, will be on display at the Japanese American National Museum in LA from July12th until August 3rd and all proceeds go toward the Michael K. Shinoda Endowed Scholarship at Art Center College of Design in Pasadena, California
Born is the story of a nameless celebrity famous for doing nothing in particular and his decadent lifestyle. It is a nod toward the growing obsession with the celebrity and the ease with which people become famous.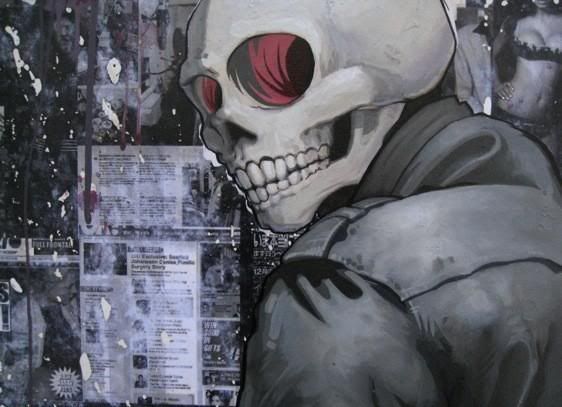 The exhibit is partly based on Shinoda's own experiences as a celebrity and a member of a band that have spent a lot of time in the spot light over the last decade, positively and negatively. In 2007 lead singer Chester Bennington's life was turned upside down by a fan who stalked him, interfering with his emails and phone calls as well as contacting his friends and family. She is now doing time in jail, but it would hardly be surprising if this was at least some inspiration to Shinoda.
In an interview with ultimate-guitar.com Shinoda described the main character as "super rich, kind of dangerous and does not give a crap and he's got this sex, drugs and rock n roll and he's not really talented at anything except being a celebrity. He's great at being famous."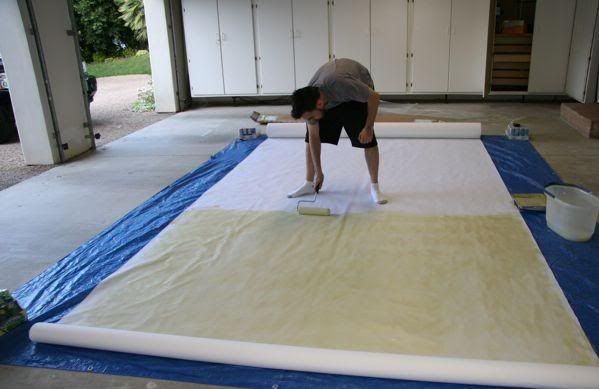 It would be easy to call the exhibit condescending - for Shinoda to base an exhibit on the rock star lifestyle of somebody who was boosted to fame by love from the public would be ironic at best – but it's hard not to admire Shinoda for his work.
Shinoda has kept fans updated on all things to do with Glorious Excess on his blog
www.mikeshinoda.com
, where he also posts updates about his up-and-coming DC Remix shoe release. The release of the shoes coincide with the art show and are based on pieces featured. They are available to purchase on August 1st.
Check out the Art section of the website for a sneak peak at the making of
Glorious Excess
and the Video section to watch an exclusive video,
Sirens and Silence
, which was shot by Shinoda himself and goes hand in hand with the story behind his art work.
Shinoda will return to the National Museum on January 24th with the second part of the exhibit,
Dies
.
by
Roz
Music For Relief
Music for Relief, a program of the Entertainment Industry Foundation, is dedicated to providing aid to survivors and communities affected by natural disasters to help them recover and rebuild. Founded by the band Linkin Park in 2005, the program aims to support immediate and long-term disaster relief with a primary goal of making a powerful and sustainable impact in highly affected areas.
Music For Relief